In-Person Talk : Turning Adversities into Opportunities
Inner Space Manchester
14 Byrom Street, Spinningfields,
(Opposite Opera House; Satnav use M3 3HP)

United Kingdom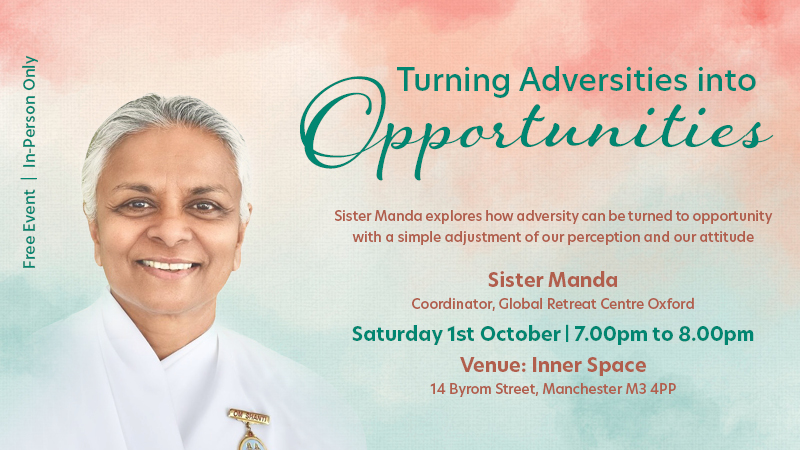 There are so many external crises these days. There is not so much you can do about that. But you can put a stop to the crises you create in your own mind.
Explore how meditation helps us to move our minds away from unhelpful feelings, fears and judgements to a place of stillness, strength and limitless potential.
About the speaker
Sister Manda is a teacher and student of Raja Yoga meditation with more than 40 years of experience. She plays a key and central administrative role in Brahma Kumaris' activities in UK and also as Coordinator of the Global Retreat Centre, near Oxford.
She travels regularly as an ambassador of the simple spiritual understandings that lie behind the philosophy of the Brahma Kumaris, an organisation with more than 8,000 branches in 120 countries and a recipient of seven 'Peace Messenger' awards from the United Nations.
Sister Manda is a gifted teacher and speaker whose warmth, clarity and authenticity make the spiritual journey feel accessible and doable for all.
Advanced booking required | Age 18 and over